So a TON has happened up here at the ranch... and since the connection is a little slower out here my pictures are taking FOREVER to upload! It's driving me crazy... posts are always way better when you have pictures to go with them... so i'll just have to be patient and post them whenever I can... so bare with me on the boring posts for the next little while. Well... since the last time I posted a lot has been going on. I've started my 18 credits worth of online classes and I'm happy to say I'm actually ahead right now:) So things are good in that area....
Last Friday we had the Hairpin Ranch branding and since I'm no longer a rookie brander... I actually helped out! I got to ride Dollar to round up the cattle.. and since I passed on the opportunity to castrate the bull calves I was mostly in charge of taking pictures... my specialty... and keeping the calves from running outta the branding pen. I almost got ran over a few times but I managed to survive! Besides the fact that my arms and face got fried it was a fun filled day! They saved the nuts so we could make rocky mountain oysters but I had to pass on that one for now! We finished up the night makin' smores and they were so dang good! I think I had like 4 of 'em. MMM...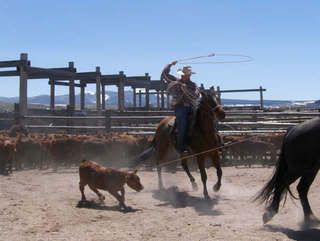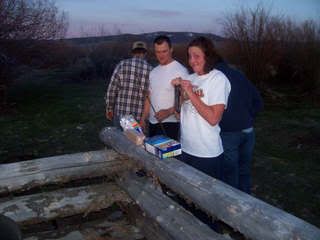 Saturday I wanted to earn a little bit of money so they taught me how to work the John Deer lawn mower and boy was that a treat! The thing was so much fun to run! The lawn took about 6 hours to finish... and my legs got fried... but it was just like driving a race car. I loved it. I seriously looked like a dirty bum when I was finished though. I was COVERED in dirt and dust and smelled kinda funny too. Don't judge me... It's all about the natural look up here! haha.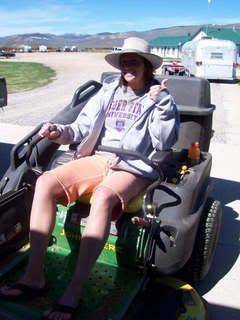 Yesterday after we went to church at the Big Hole Branch, me and Cosy made five loaves of wheat bread with Mom Folsom and then a gigantic batch of cookies. I'm learning to be quite the little Betty Crocker while I'm up here! We finished the night off with two different games of rook... gotta love that game. Now that I'm finally old enough to play with the Lines Clan we live too stinkin' far away!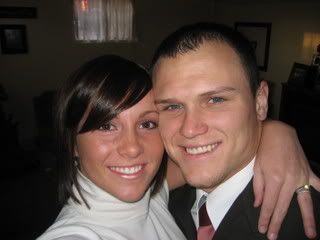 Today we were feeling pretty ambitious so we went up to the ginormous house/cabin that's a little ways up on the ranch and did some Spring chores. We had to teak oil all the outdoor wood furniture, powerwash all the four wheelers, and wash the HUGE windows on the house. It took about 6 hours so we made over 100 bucks each! Woohoo! And even better... J.D, as we're speaking/blogging... just sold one of his horses, Leo. YAY! The Leo funds can go towards paying off our future Vet school debt! Good job babe!
Well I think that about sums everything up for now. Things are fun and relaxing up here as always. Hope everyone is having a fun summer wherever this blog may find you:)