So we've been up here at J.D.'s ranch for pretty much all of May... and I still haven't posted any pictures of the beautiful country! There's no way I could ever see it all... but from what I have seen....I love! The land towards the top of their property is still so snowy and looks like winter! But the lower lands are greenin' up after a way too long winter! It even snowed yesterday and today... you can see the dark clouds just starting to move out! I can't believe the water that is covering the land... there is so much running down from the mountains that there are streams everywhere! I told J.D. we should go white water rafting:] Some of them look like they could handle it! But it's so pretty and so so relaxing up here! J.D. and I went on a walk before we took a drive up the ranch and it is just so peaceful and pleasant... so different from the city life. I'm sure gonna miss it up here! Here's a little bit of what we see everyday... pictures just don't do it justice.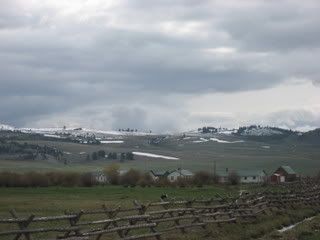 You can barely see some of the houses... always a place to stay at the Hairpin:]
My sexy lil' cowboy and Yogi... such a cute dog.
I can't believe how much snow there still is!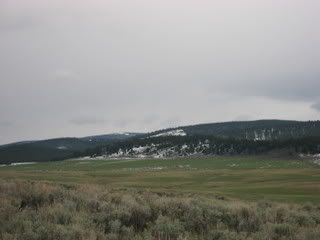 The land is never ending....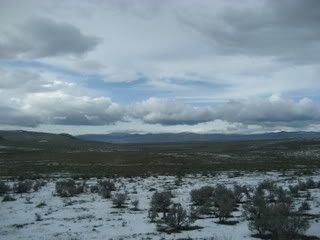 The sky here is amazing... it seems ginormous!